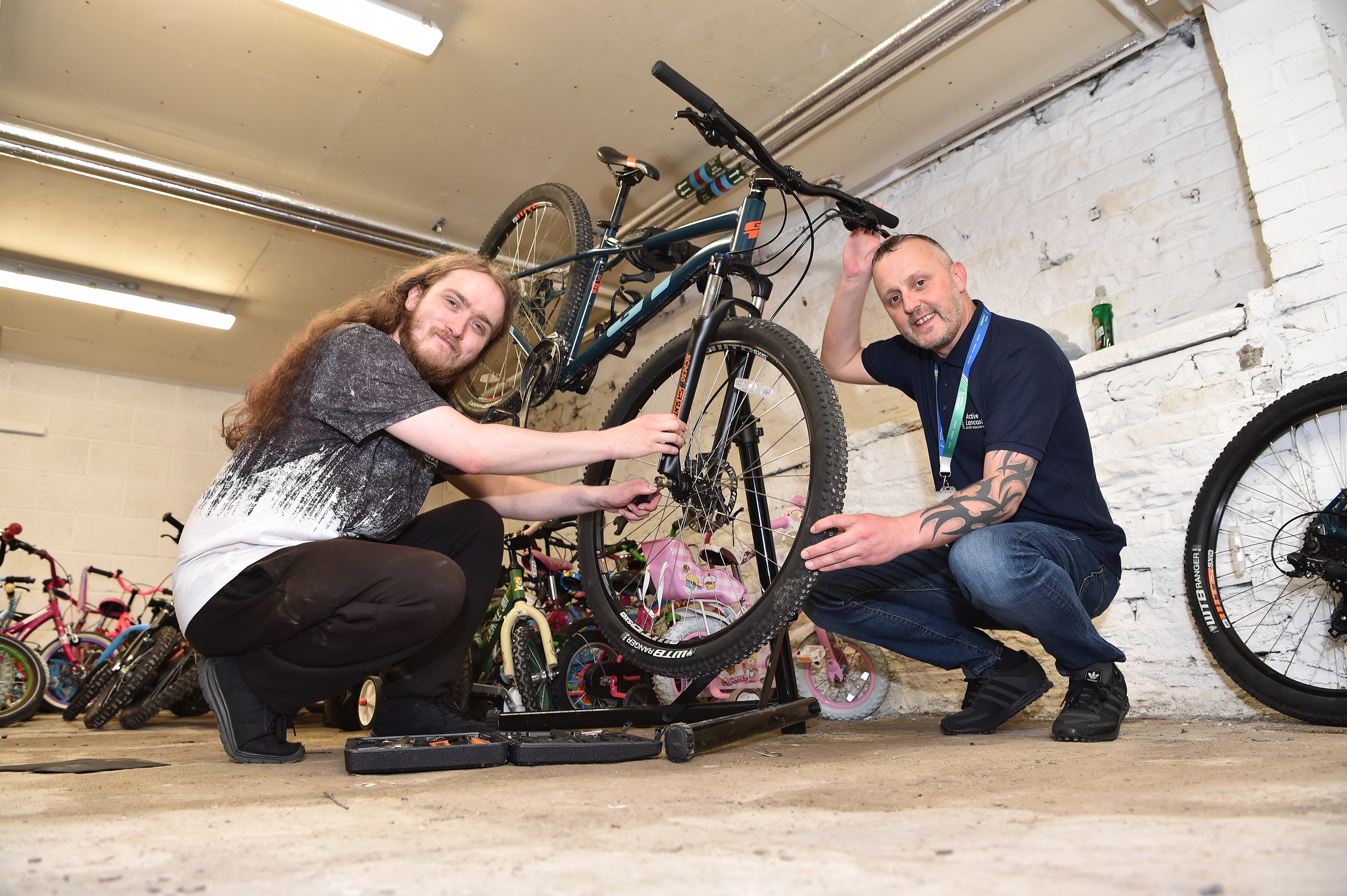 A 23 year old man from Nelson feels his life has been changed through the ongoing support of a local youth employment hub and its bike scheme.
Luke Marsh lacked confidence in himself and rarely left his home before accessing the services offered by Pendle YES Hub, which are designed to help young people from the area socialise, gain new skills and support their physical and mental wellbeing.
Luke found the courage to visit the Hub last August and has since found himself visiting daily, not only participating in activities run by the Hub but volunteering to deliver them too.
Luke said, "Through the Hub's activities I made a lot of new friends and am there every day taking the registers and supporting the delivery of the sessions they run, including the badminton, table tennis and gym and swim sessions. It's really good work experience for me and has helped me massively with my confidence."
Since joining Pendle YES Hub, which is managed by charity Active Lancashire on behalf of Pendle Council, Luke has decided that he wants to become self-employed in future.
He said, "I want to set up my own dog walking business and am gathering the experience and coaching that I need to do this. However, as an epileptic, I am unable to drive and that has been a major barrier. The Hub's Cycle Recycle scheme, which teaches you how to fix a broken bike that you get to keep, has provided me with the means to get around the town.
"Not only do I use it to get to the Hub each day to volunteer, but it will help me set up and travel to a local round of customers. I've found myself cycling for fun and enjoyment most days too."
The Cycle Recycle scheme was established by Active Lancashire in partnership with Lancashire County Council and Lancashire Constabulary. Bikes are collected from waste sites for the project, which teaches maintenance skills to participants who need a form of transport to access work and pre-employment support. Breaking Cycles CIC are running a weekly bike club at the Hub as part of the scheme, which also includes social riding sessions.
With his newfound skills, Luke is also volunteering to refurbish children's bikes at the Hub as part of an enterprise programme.
Dave Marshall, Employment Coach at Pendle YES Hub, said, "Luke has a natural talent - we were impressed at how he could strip a bike down to separate parts, clean them and put it back together again. National Cycle to Work day is nearly here and Luke has literally been provided with what he needs to cycle to work!"
"We are really proud of how far Luke has come since visiting the Hub and really value the support he gives us through volunteering. We are currently trying to find funding to support him with his business idea."
Luke's mother, Sharon Marsh, said, "Luke has always been quiet with low confidence. Covid made it worse. He played on his computer all night and slept all day. One day I convinced Luke to visit the Hub. He went there with his mask on and hood up, not really looking up from the floor. Two weeks later I came home from work and Luke said he had gone back. He then started going once a week, now almost daily.

"His confidence has grown massively and he's changed. He tells me all the things he has done and looks forward to the next day's events where he would not speak much before. He is a confident young man.
"This may sound silly but I have grown with him. I don't worry about him anymore. All this is down to the support of the Hub, who have been patient and allowed him to progress at his own pace."
Pendle YES Hub provides a variety of free sport and social activities, job coaching and employment support for people aged 16 to 24 across Lancashire. It recently received an additional £420k funding through the Nelson Town Deal to remain open for at least another 4 years.
Find out more at activelancashire.org.uk/projects/pendleyeshub