Walter Lyon House is an abstinence based supported housing project based in Lancaster. Treatment at the 13-bed building encourages residents to get directly involved with their care and surroundings, including cooking and maintenance, which are both critical parts of that practice. Residents plan and prepare their own meals as well as doing their own laundry and other chores. Clients coming into Walter Lyon House must be abstinent before they arrive. A personal care plan is put together by residents and key workers, to promote continued personal recovery through group and individual therapy and workshop-specific discussions on future goals for health, finances, work, housing and family relationships.
CSI has a long-standing working relationship with Walter Lyon House, residents often engage in activities in the community with CSI and support workers from the CSI team often visit Walter Lyon House to promote and give talks about what's on offer to residents. In fact, three residents have become official CSI volunteers, they have received various training courses which include, Safe Guarding, Boundaries Training, Multi Sports and Boxercise Coaching qualifications.
Recently with the Covid 19 pandemic, residents have been on lockdown, Walter Lyon has stuck rigidly to government guidelines and only allowed residents to leave the building for their 1 hour permitted walk. Thankfully the CSI volunteers knew how to engage the residents through sport and physical activity, this is where their training came in. 
CSI support workers delivered equipment to Walter Lyon house which included a soft archery set and table tennis on the second week of lockdown, not only have they put the equipment to good use, but they have been taking part in yoga with Mi Mi, CSI's long standing yoga instructor from their Fleetwood project. The session was projected onto the dining hall wall and residents spent one afternoon a week practising yoga, one lady whom had never done yoga before said "it was wonderful I feel great, loose and relaxed, I will most certainly try it again. Mi Mi the instructor was beautiful."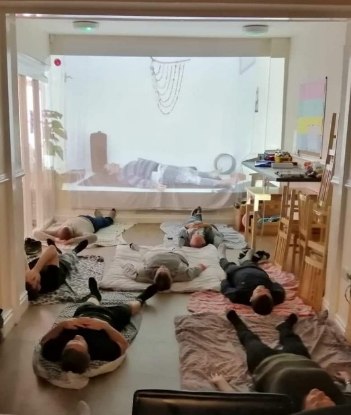 Chris, a CSI volunteer commented on his experience in lockdown, "Since I have engaged with CSI they have guided me to a wealth of new knowledge through the various courses they have let me take part in and given me the confidence to deliver groups to the other peers in our household. I have achieved so much in the months I have been working with CSI and I strongly believe that if it wasn't for the guidance they have given me I wouldn't be in the position I am in today."
Boxercise has also been a great hit, Chris, Aaron and Joe have really motivated everyone on a daily basis, it's been great to watch all the different routines and ideas they took from their Boxercise coaching course.
Couch to 5k is a new activity, inspired by the Virgin Run 5k for NHS staff, it has been a big hit. Chris has led this activity using residents one hour a day for exercise to complete it. Chris has also completed his 5k and donated £5 of his own money to this worthy cause.
Whilst in lockdown, volunteers have completed Safe Guarding Training online and have had group volunteer support with their support worker most weeks. Ideas are forever flowing on the volunteer group chat, so watch this space!
Tamasin, a CSI support worker from the Lancaster area said, "I am so proud of the lads taking the lead, they needed little support, it was wonderful watching them as they came up with their own ideas and solved their own problems, now they just get an idea and get on with it, they don't even need to ask me! Being in lockdown has given the lads real confidence and experience on what it is like to engage participants that may lack motivation, and how to solve problems that may arise, theses lads should be very proud of themselves, they have kept people going in the house whilst in lockdown, it's great to see."
CSI and volunteers have lots planned for the next few weeks, from online sports days, online learning, and more national campaigns to get everyone involved in, with all capabilities catered for.
The volunteers are very much looking forwards to getting out of lockdown and using their new skills and qualifications towards there volunteering roles, and eventually job searching.