Active Lancashire take home Healthy Workplace Award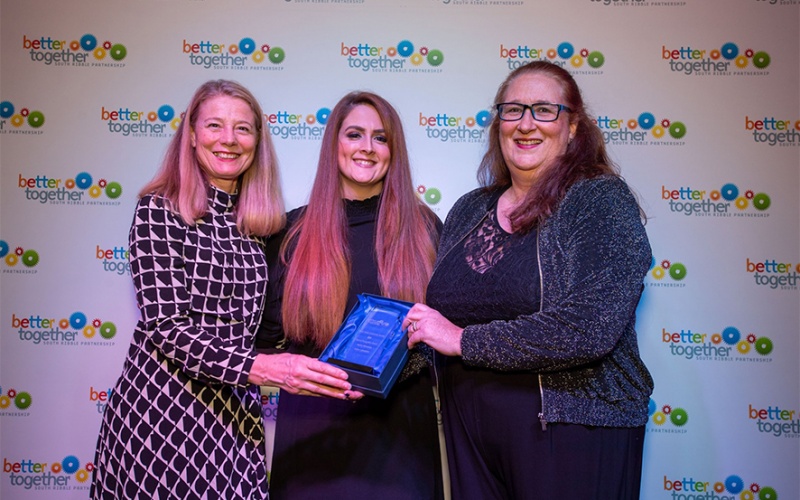 Not-for-profit organisation, Active Lancashire, has been honoured for its commitment to the wellbeing of its employees after receiving the Healthy Workplace Award at this year's South Ribble Community Awards.
The awards, which took place on Friday 24th January at the Civic Centre in Leyland, have been developed to recognise all positive contributions being made by those living and working in South Ribble; whether that be those who volunteer to help others, or an individual or organisation inspiring others through their dedication to a cause.
The Healthy Workplace Award in particular, seeks to recognise an employer within the borough that offers a great place to work, providing an environment which both supports the wellbeing of employees and encourages a healthy lifestyle. Active Lancashire stood out from the crowd within this category as they have made real strides over the past 12 months to improve the health of their workforce through their internal initiative, titled '#ALittlebitmore'.
The initiative came into fruition in March 2019 when the organisation decided it was important for them to 'practice what they preach', particularly as they are also more than aware of the links between physical activity and sickness levels highlighted through their research and insight work. After consulting with all staff, Active Lancashire identified that there was a varying range of activity levels within the team, thus the offer needed to cater for all. #ALittlebitmore provides staff with an additional 30 minutes break per week to undertake physical activity with the hope of reducing sedentary behaviour during the working day. Whilst the immediate benefits of the scheme impact their staff, the organisation also felt that it could be a good way of inspiring other partners and organisations across Lancashire to adopt a similar initiative promoting the same ethos.
Since March, Active Lancashire has further encouraged their staff to engage in the scheme through booking in a number of sessions to take place over lunchtime such as Pilates, badminton, glow sports and healthy eating (supported through ABL Health). In addition to this, the team have also gone on to organise self-motivated activities such as running with colleagues, walking meetings and partaking in a workplace netball tournament. Thus far 169 attendances have been recorded, with feedback from staff being extremely positive:
"Its nice to be able to be away from the desk and recharge batteries"

"It is good for my mind and makes me feel good"

"Good to be talking about other things than work, and encouraging each other"
CEO at Active Lancashire, Adrian Leather, hopes that their dedication to improving the health and productivity of their workforce will help inspire other organisations to adopt a similar initiative, implementing small changes that could have a huge impact on Lancashire's working population. He said:
"The #ALittlebitmore initiative has been really well received within our team, proving that not only do we as employers play a part in providing our staff with the means to be able to engage in physical activity to improve their health and wellbeing, but equally there is the demand there from staff wanting to take a well-earned break from their desks to help them feel better and have more energy when they return. Developing the scheme came easy to us, as we are very lucky to have a number of team members who are experienced in certain sports so are able to deliver sessions, but for other organisations this may not be the case and they might not know where to start, thus we would love to help other businesses across Lancashire develop their own initiatives that work for them."
Active Lancashire is in the process of developing a Workplace Health offer which includes Workplace Champion Training available for Lancashire-based organisations. More details will be released on their website over the coming months: https://www.activelancashire.org.uk/ 
To see the #ALittlebitmore initiative in action, take a look at their latest video: https://www.activelancashire.org.uk/media-centre/alittlebitmore 
---