Active Lancashire continue to increase access to local sport and physical activity for young people through the creation of new satellite clubs, up to April 2019. We are also committed to support and guide our network of existing clubs as we work to sustain their offers for young people.
Funded by Sport England, Satellite Clubs are local sport and physical activity clubs designed around the needs and motivations of young people to provide them with positive, enjoyable experiences that make it easy for them to become active or to develop more regular activity habits.
Satellite clubs are targeted at young people who are inactive or generally less active on a regular basis. These young people are typically moving between the contemplation – preparation – action phases of the behaviour change model: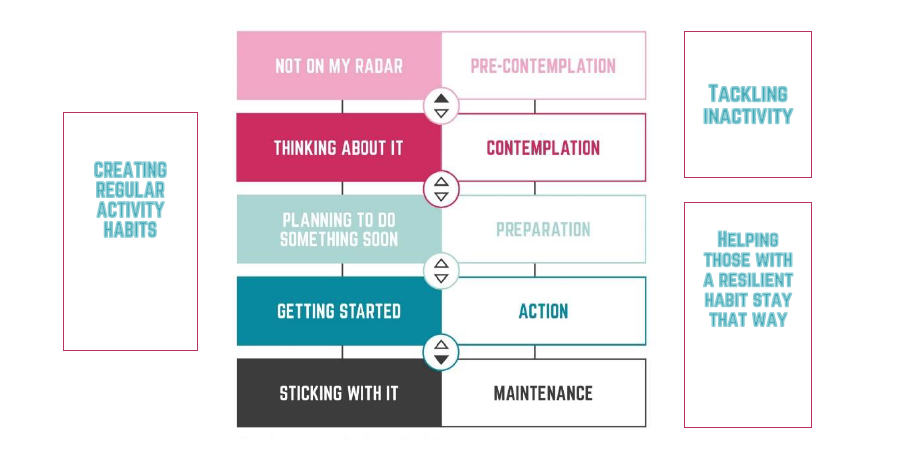 Core Principles - Sport England
There are a number of core principles that underpin the satellite club model that all delivery must align to. These principles are:
New satellite club delivery must be focused on young people aged 14-19.
Satellite clubs should be targeted at helping young people become active or build regular activity habits.
Activity provided through satellite clubs should be aligned to achieving the Chief Medical Officers recommendation of delivering moderate to vigorous intensity physical activity.
Positioned to be able to support young people at points of disruption in their lives.
Designed to get young people active and create regular activity habits.
Be young people (customer) led including involving young people in decisions and design.
Be linked to or developed into a regular sport and / or physical activity opportunity.
Appropriate safeguarding standards must be in place.
Active Lancashire Delivery Model
We have gathered a variety of insight and data to discover the most appropriate and effective approach to achieving Sport England objectives for satellite clubs, this includes;
Target Audience
14-19 year olds from the most deprived areas across Lancashire
Females aged 14-19 years from the most deprived areas across Lancashire
Want to know more about Satellite Clubs?
If your organisation is interested in establishing or supporting a new Satellite Club please contact Ronan McMahon by email to rmcmahon@activelancashire.org.uk alternatively you can call 01772 299830.
Do you want to get involved in a Satellite Club?
There are a range of Satellite Clubs across the county with more being set up all the time. See the film below:
For more information on Satellite Clubs, please contact Ronan McMahon on 01772 299830 or email rmcmahon@activelancashire.org.uk.