Club Support

Here at Active Lancashire, we value the work and achievements of all local clubs and groups that contribute to physical activity and sports opportunities across the county. We know how valuable you are to the local communities you serve, not only for the activities you provide but for all the extra support, networking and other opportunities that come from being part of a community club or group.
We are here to provide support and guidance and to help your club be stronger and more sustainable.
We have created bespoke support materials for our local clubs and groups which consist of two videos - one explaining club roles, and the second one outlining inclusivity and clubs for all.
We also send out a monthly newsletter with updates on funding, support and club workshops. You can sign up for it below.
Club and Community Survey 2023
We would like to gather your thoughts so you can have your say in the development of Active Lancashire Club Support. This year the themes are:
Lancashire Offer – We work collaboratively with a number of partners such as Sported, StreetGames and Local Authorities. This has created opportunities for clubs and community groups to access training, support and development, helping them become more resilient and sustainable. Let us know what you need so we can help you find the right support to move your group forward.
Equality, Diversity and Inclusion (EDI) - As a partnership we are developing insight from across Lancashire about the current landscape of EDI. This survey will help guide our action plans moving forward.
Relationships and Collaboration - We feel these are key to success, so would like to know more about the relationships you have and how you feel these could be better established, developed and sustained.
Targeted Support – There is an opportunity to work closely with some groups who would like to be able to develop their physical activity offer to the community they support, building resilience and sustainability. This is something we could discuss on a 1:1 basis to create an actionable plan.
Your Strengths – We want to know what you do well, what you are proud of, or something that makes your offer different to other clubs, community groups or services.
Please click here to complete the survey
Club Support Workshops
These free online monthly club development workshops were delivered in association with professional workforce and guest speakers from various clubs and sports organisations. Sessions had a 20 mins presentation/information sharing and a question and answer/discussion time.
You can watch the pre-recorded workshops below:
Planning for your future with Club Matters Health Check Tool explained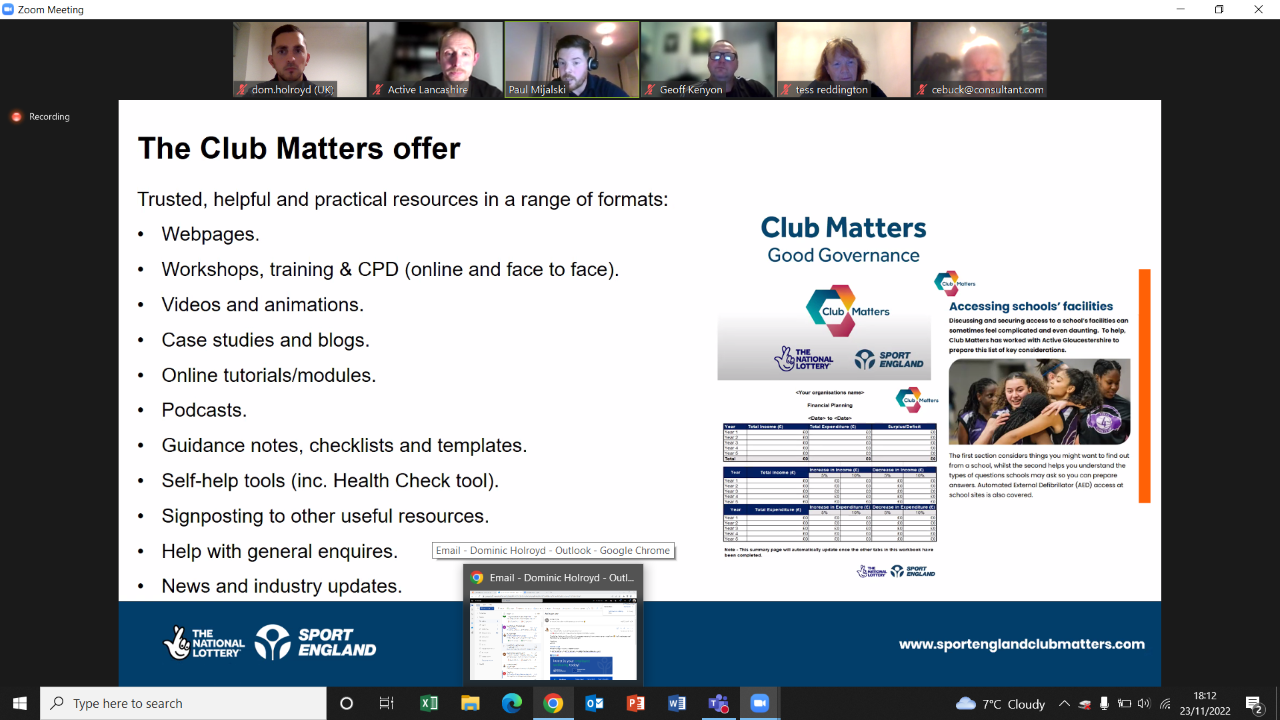 Engaging your Community including Crowdfund Lancashire. With special guests Fylde Community Foundation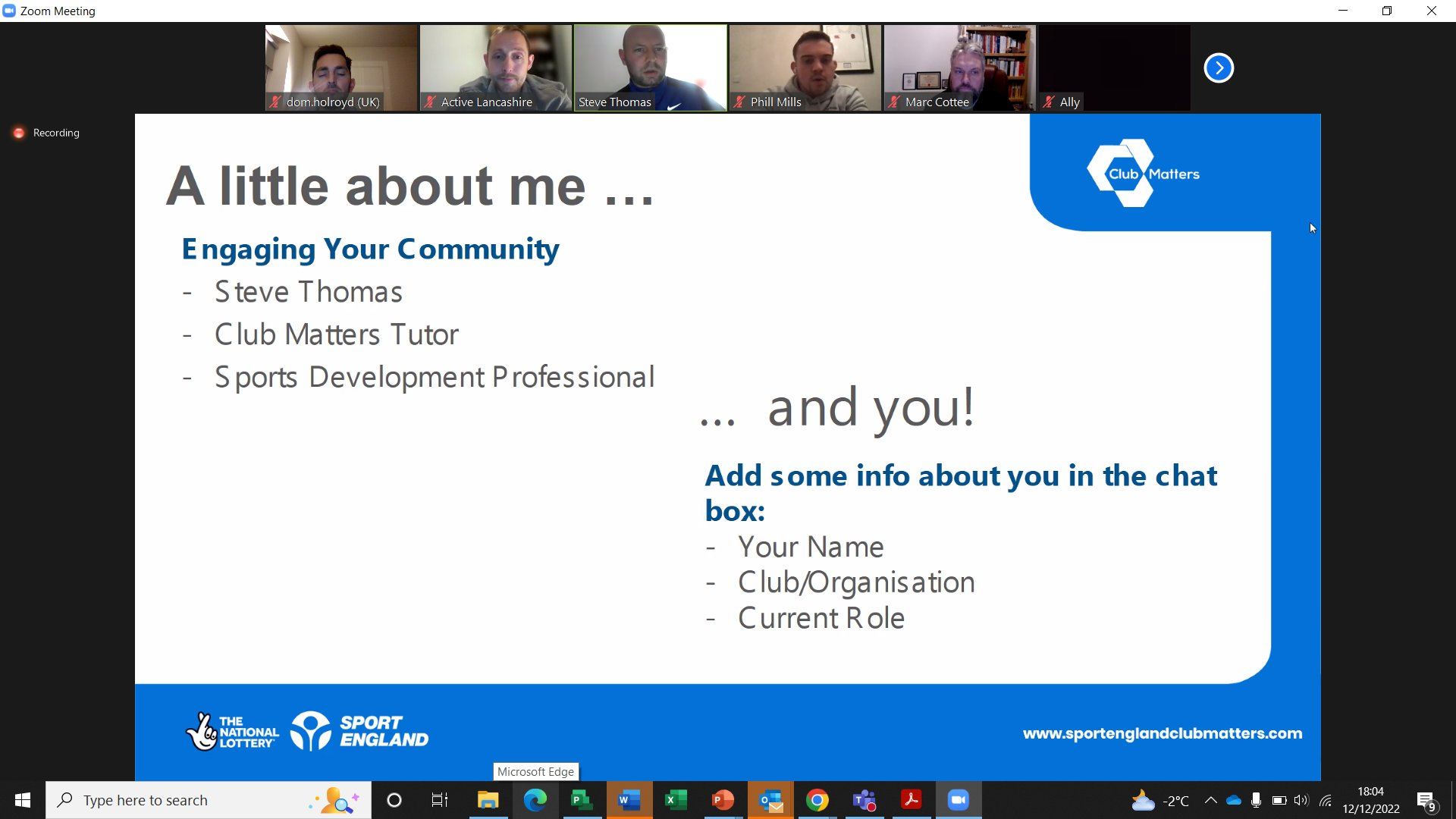 Fundraising and 'What is Crowdfunder?'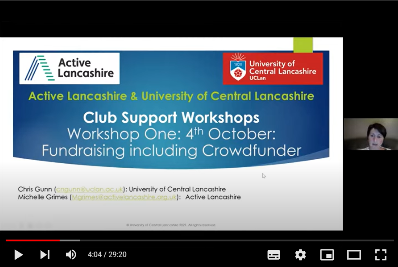 Future Focus; identifying opportunities for positive change. With special guests Typhoons RUFC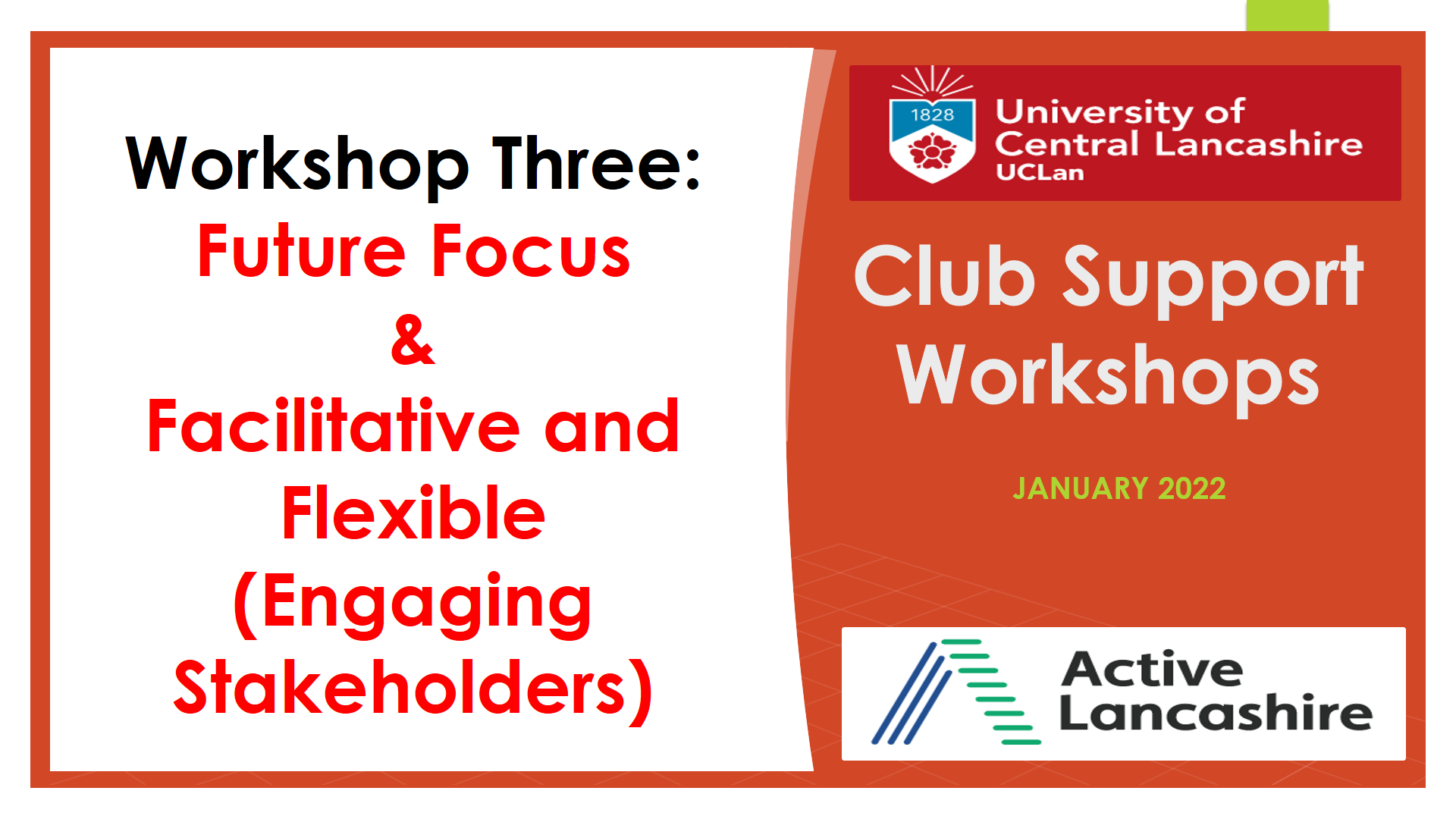 Family, fun and friendship; examples of how you can increase membership. With special guests Preston United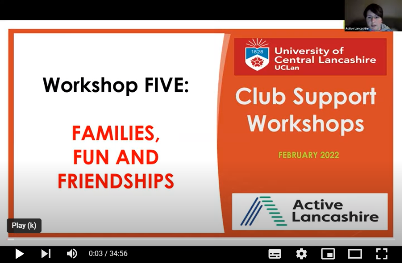 Useful links and Resources
As we work to develop our offer, please see below links to some useful websites, these are great places to go for information and resources.
At Active Lancashire we have a range of courses/training available both online and face-to-face, please see our dedicated page here.
Sport England has a dedicated club support website called Club Matters, this is a one-stop shop for all things clubs and offers free resources and training opportunities as well as a range of advice and support. You can access it here. Club matters Health Check Tool – learn about the strengths of your club as well as the areas for improvement – with links to how to improve. This will give you a downloadable report that you can use as a planning tool and share with funders - click here. Please visit this link for the most up-to-date online free Club Matters training webinars
We understand funding is always an issue for clubs and community organisations, please see Sport England's latest funding opportunities and advice here.
Contact us now
If you would like to contact us about any specific issues you can use the contact button on the side of this page to send an enquiry to which one of our club support officers will respond to.
We will be using social media to support our offer and promote all of our updates on our website so please follow us on Facebook and Twitter.