Level 2 Certificate in Coaching Dodgeball
Book a Place
Saturday 13th November 2021
Sir Tom Finney Sports Centre, Preston, PR1 2HE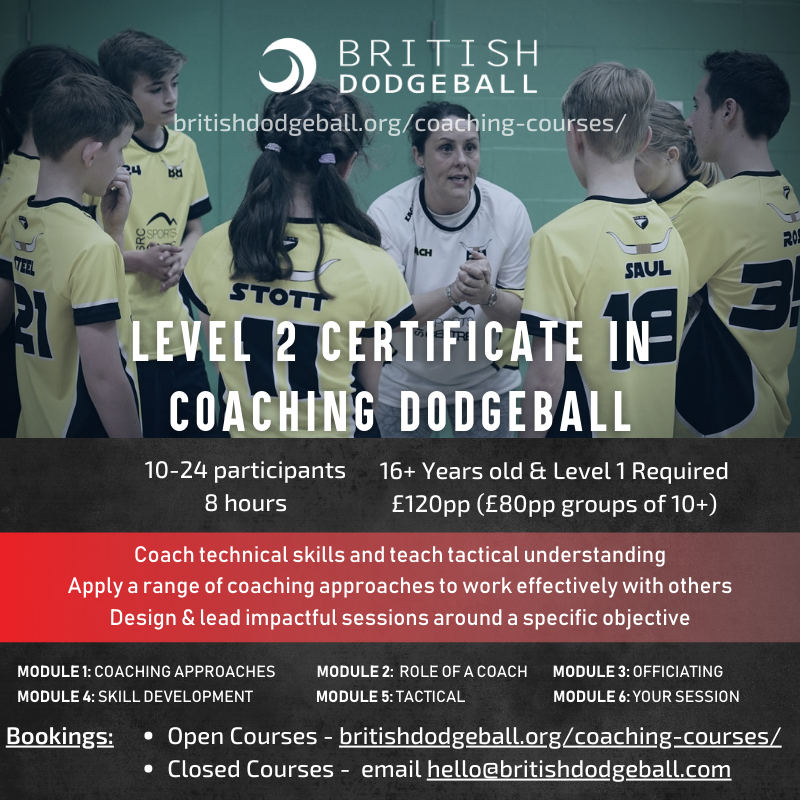 Over 2.3 million young people are not active for 30 minutes per day on average, and as one of the most fun and popular team sports in the UK, dodgeball could provide a solution for many young people. The Level 2 Certificate in Coaching Dodgeball provides you with the training to be able to coach dodgeball skills and make technical corrections to improve player performance; teach an increasing range of offensive and defensive strategies to improve tactical understanding; understand and apply the dodgeball ruleset to sessions, with the ability to adapt rules to increase the rate of player development; lead safe sessions and understand and apply a range of coaching approaches. This is a blended learning course, consisting of 30 minutes of pre-course learning and then 8 hours of practical learning and assessment on a Level 2 coaching course. This coaching certificate enables participants to deliver dodgeball sessions independently as part of the British Dodgeball minimum deployment requirements.
Book a Place
This should be particularly useful for:
Teachers
School sports coaches
Community coaches
New club coaches
Club helpers and volunteers
Prerequisites:
To take this course, you must:
Be aged 16 or over.
Hold a Level 1 Award in Coaching Dodgeball – If anyone attends and passes a Level 2 course without having completed this, their Level 2 certificate will be withheld until this is completed.
It is also strongly recommended that you complete a safeguarding qualification and have a DBS certificate before you take this course if you are working regularly with children or vulnerable adults. These form part of our minimum deployment requirements for coaches working with young people.
Course Length: 8 hours (+30 minutes pre-course learning)